• Board of directors
Phodiso is led by professionals whose expertise lies in the planning, analysis, development and implementation of well-planned business objectives. Directors who understand the challenges of health care, not just in South Africa but also across the borders of our country.
Matlala N.S. – Group Executive Chairman
Lenong D. – Group Managing Director
Dvornak N. – Non-Executive Director
Kuzwayo C.T. – Non-Executive Director
Makaba M.K. – Non-Executive Director
Sizani T.S.L. – Non-Executive Director
• Group Structure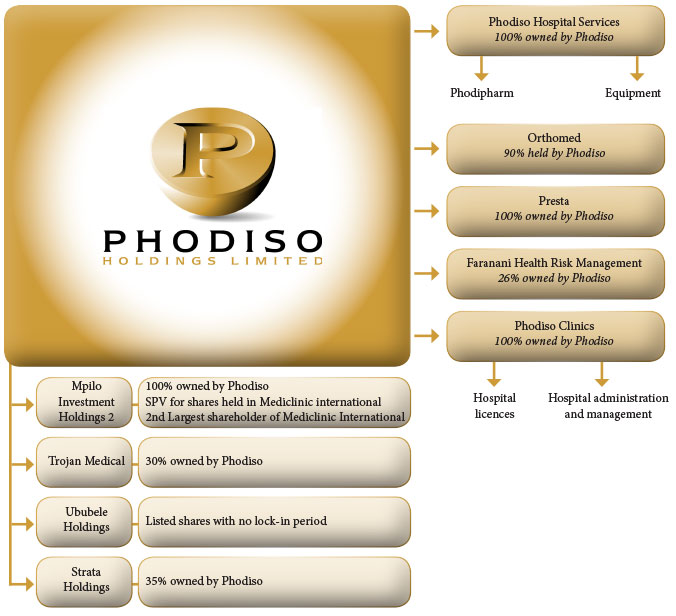 • Our Pledge to you and the industry
As one of the leaders in the industry we will maintain our focus to offer all citizens quality health care in South Africa and in Africa, thereby persistently attracting sustainable investment opportunities for the benefit of all, and to grow our share in the industry through our intellectual property and financial resources.

As a Group, we commit to respect all stakeholders and to care for their interests in an ethical manner at all times.
We will respect the individual and work towards the maximum potential of our industry.
In our behavior, we will regard everyone who is dependent on our outputs as our clients.
We will set objectives and give regular performance feedback.
• A sustainable footprint of a true leader
Anchored in the soil of Africa, Phodiso is symbolized with the Baobab tree, having deep roots that secure the growth of the company allowing its branches to multiply and to reach the skies, giving shelter to many organisms.
• Phodiso cares for others
Phodiso is known for not overseeing the finer detail in the bigger picture. Therefore the importance of Corporate Social Investment carries in the daily activities and planning of the group. Phodiso further encourages all their affiliated companies or strategic partners to get involved in combined social development programmes.

Following its establishment of Legae Private Clinic in 1992, Phidiso initiated and funded the following projects:
The first rape crisis clinic fully manned by SAPS members
A vegetable garden project benefiting persons with HIV and AIDS
A Snowflake baking skills development programme and
A Laundry initiative
Phodiso Trust offers bursaries to successful applicants whose desire is to further their studies in the Health Science Industry at a recognized University.
• Our address and contact details
Please feel free to contact us with any questions or queries you may have:


Tel: +27 12 751 1780 / +27 12 751 2774 / +27 12 754 0442/3/5
Fax: 086 596 1097
Email: info@phodiso.co.za
Website: www.phodiso.co.za
Address: 5 Bauhinia Street, 26 Cambridge Office Park, 1st Floor, Highveld Techno Park, Centurion, 0157
GPS Coordinates: -25.879830, 28.182036